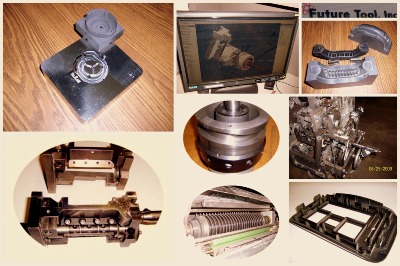 Future Tool, a precision machine shop whose dedicated work force maintains quality workmanship throughout all stages of manufacturing to ensure the customers best interests & product requirements are satisfied. Whether it's a simple washer, complex mold, machine conversion, or the reverse engineering of OEM parts, you can be confident of a quality job in an expedient manner.


Molds - design, manufacture, repair and consultation
Reverse engineering of OEM parts
Machinery conversions of packaging equipment
CNC machining - 30" x 60" x 26" high capacity
EDM
Fabrication
A complete machine shop
In house design to support all of our services
Custom machines - design & manufacture of small machines
Let us show you how we can save you money and time with our many years of experience. With in house design capabilities, our designers use Inventor, Mastercam and Autocad to work closely with our customers to:

Achieve optimum cycle time through proper gating, venting, material selection and adequate cooling of molds while still maintaining part integrity and esthetics.

Improve OEM parts through design improvements, better material selection and surface treatments in order to reduce down time due to failed or worn parts

Future Tool is located in Rockford, IL, 80 miles west of Chicago, IL, 90 miles southwest of Milwaukee WI., ideally located near interstates I90 and I39 and only minutes away from The Greater Chicagoland International airport at Rockford, which is home to a UPS over night air hub, allowing for last minute loading of rushed over night jobs.

Customers can contact us

By email at back2@futuretool-inc.com

By phone at 815-395-0012

By Fax at 815-395-0013

By mail at 2029 23rd Ave, Rockford, IL. 61104